Your Most Trusted Chiropractic Group Globally
Here's What You'll Receive
Lifestyle Recovery Consultation (U.P. $150)
Advanced Structural (Posture and Gait)
Examination ($120 Value)
Lifestyle Examination & Recovery Plan ($80 Value)
Total Value: $350
Get all of this today for JUST
Conveniently Choose From Our 11 Clinics Islandwide!
Are These Conditions Bothering You In Your Life?
ONLY VALID FOR THE FIRST 6 PEOPLE PER CLINIC
If you have experienced one of the above, these conditions are just symptoms of a larger issue – Your spine.
Imagine your body being an intricate wiring system and your brain (power source) sending 'electricity' to all parts of the body.
A misalignment in the spine is like blocking the wire from effectively sending power to the different parts of the body, resulting in pain.
When the spine is misaligned, soft tissues become irritated, adjacent muscles tighten, and nerves can be irritated and their function impaired.
Pain, be it lower back pain, neck pains, headaches, are just our body's way of signaling to us that there's a larger problem.
By fixing just the pain, the root problem still stays.
And that's why after treatments such as massages, therapies and medications, the pain still comes back.
Yes, you may feel fantastic after a massage.
And medications could provide quick pain relief.
But here's the thing.
None of them solves the root problem.
The pain will always come back until the real cause is fixed, and that's your spine and nervous system.
Imagine being able to focus 100% and excel in your work daily,
Feeling refreshed after every night with undisturbed sleep,
And the freedom of engaging in any activity with your children.
This is what life looked like for you in the past and will be for you with a healthy spine and all the pain completely gone.
ONLY VALID FOR THE FIRST 6 PEOPLE PER CLINIC
Over 2,000,000 Successful Treatments Worldwide
Results From Our Singapore Customers
5 Stars Reviews on Google
"My shoulder pains were gone now. I have
the freedom to do what what I want without
weariness now."
"My overall body health has improved. I now
get flu less frequently and of a lower
severity."
"My thyroid condition stablised, heaches
were gone and I was taken off medications!
I can now carry on with daily activities."
"My back pain has resided alot after
treatments and I now plan to continue with
my Triathlons"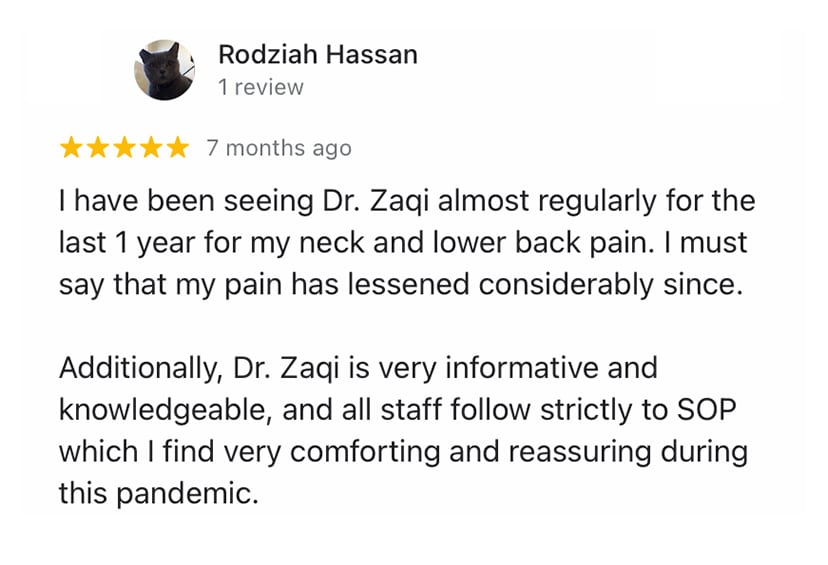 ONLY VALID FOR THE FIRST 6 PEOPLE PER CLINIC
Introducing Singapore's Most Trusted Solution to Long Term Freedom From Pain
Your pain was not formed in a day but took months and maybe even years to develop.
It could be due to trauma, bad posture, birth defects, disc degeneration or an infection.
And it requires a thorough diagnosis and treatment.
We are not here to give you a one-day pain relief.
Neither are we here to give you a feel good session.
We are here to help you understand the cause of your problem and how to fix it for the long term ensuring that the pain never comes back.
We want to help you get back into the sport you love.
We want to help you be able to sit and stand for long hours without having any pain.
We want you to wake up with full motions in your joints.
Healthier and happier than you have ever been before,
Just like how we've helped over 80,000 patients worldwide.
ONLY VALID FOR THE FIRST 6 PEOPLE PER CLINIC
Your 3 Step Process to Freedom From Pain
ONLY VALID FOR THE FIRST 6 PEOPLE PER CLINIC
Here's What You'll Receive
Lifestyle Recovery Consultation (U.P. $150)
PLUS
Get these bonuses for FREE if you book now
ONLY VALID FOR THE FIRST 6 PEOPLE PER CLINIC
BONUS #1
Advanced Structural
(Posture and Gait) Examination
($120 Value)
Analyse your body and the capability of the
musculoskeletal system to adjust to physical stressors.
BONUS #2
Lifestyle Examination &
Recovery Plan
($80 Value)
Learn the exact cause of your specific condition and how
to fix it. Actionable information to regain the life you love!
Get all of this today for JUST
ONLY VALID FOR THE FIRST 6 PEOPLE PER CLINIC
The fact that you are still reading this shows that you desire a life free from pain.
But you may be hesitant.
That's why you have not registered for your consultation.
So here's a word of caution…
The truth is all the pain you feel are symptoms,
And behind symptoms are always underlying problems.
The chance of your condition deteriorating is increasing every time you wait.
And it's not going to fix itself.
The earlier you learn to fix the problem, the shorter it will take to recover and the quicker it will be to get back the lifestyle you desire.
And while that's what we want for everyone who reads this,
We are limited to only 6 consultations per clinic weekly as the majority of our time is already spent on treatments.
Click on the button below, select the clinic closest to you and we'll get in touch with you.
We look forward to helping you live your best life – a life free from headaches, migraines, neck and back pains!
ONLY VALID FOR THE FIRST 6 PEOPLE PER CLINIC
Hear What Our Customers Have To Say!
"…I now feel healthy and strong and it helps
me live life to the fullest."
"My insomina has improved tremdously
after the treatment. I can now sleep better."
ONLY VALID FOR THE FIRST 6 PEOPLE PER CLINIC
ONLY VALID FOR THE FIRST 6 PEOPLE PER CLINIC
Find Freedom At Our 11 Clinics Islandwide
ONLY VALID FOR THE FIRST 6 PEOPLE PER CLINIC
Frequently Asked Questions (FAQ)
ONLY VALID FOR THE FIRST 6 PEOPLE PER CLINIC