Waterfront @ Desa Parkcity
9:00am – 2:00pm
4:00pm – 9:00pm
9:00am – 1:15pm
4:15pm – 9:00pm
9:00am – 1:15pm
3:15pm – 9:00pm
9:00am – 2:00pm
4:00pm – 9:00pm
9:00am – 2:00pm
4:00pm – 9:00pm
9:00am – 1:15pm
3:00pm – 9:00pm
9:00am – 1:15pm
3:00pm – 9:00pm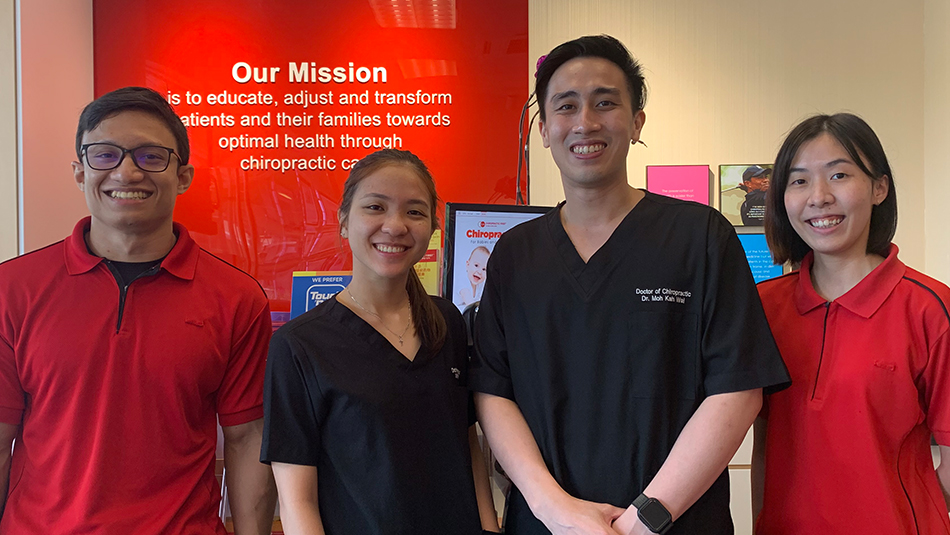 9:00am – 2:00pm
4:00pm – 9:00pm
9:00am – 1:15pm
4:15pm – 9:00pm
9:00am – 1:15pm
3:15pm – 9:00pm
9:00am – 2:00pm
4:00pm – 9:00pm
9:00am – 2:00pm
4:00pm – 9:00pm
9:00am – 1:15pm
3:00pm – 9:00pm
9:00am – 1:15pm
3:00pm – 9:00pm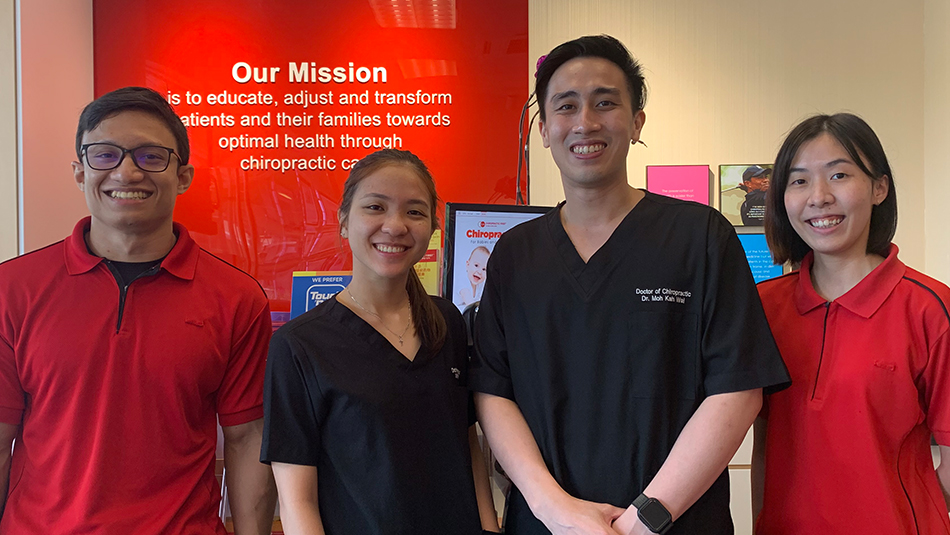 3 months of chiropractic treatment here with Dr Moh, it is a very pleasant experience overall. Other than on-site treatment, Dr Moh put in effort to educate patient on the knowledge of chiropractic, cause of the common pains, and preventive measures. Constantly follow up the progress of recovery, try to understand patient's needs and problems. I think all these help in providing long term solution for patient. It is worth giving a try especially for people with spine or joints related problems.
I have knees pain , after go chiropractic treatment, the pain has reduced. Doctor Ng explain very detailed to me and guide me how to correct my sitting posture.
lau shuyee
11:22 09 Dec 21
I signed up for a one-year chiropractic plan with Dr. Moh at Chiropractic First, Desa Parkcity. After having a consultation, I was requested to take an x-ray for him to better assess my spine. Dr. told me that I have a stiff neck, weak joints on my leg, arms and second stage degeneration on my lower back, all of which had happened between 6-10 years.Dr. Moh's treatment protocols include working on my affected bones while I work daily on improving my muscles based on the exercises given.To-date, I am very satisfied with the results achieved as I can sleep better and has greater mobility on all my joints. I highly recommend Dr. Moh as he is very concerned to see improvements in your spine and nervous system.
Christina Tian
13:22 22 Nov 21
I'm in my late 20's & been going to Chiropractic First under the care of Dr.Moh at Desa Parkcity for the past 3 months. I've been to one in the States & Malaysia prior to this due to having lower back pain, shoulder pain & even pain I never knew existed until I went under the care of Dr.Moh like cold feet & neck pain. He was able to pinpoint the source of the problem through some analysis, x-ray (my back & neck had degenerated tremendously due to subluxation that's been there between 6 – 10 years which was a shock). However, Dr. Moh was very patient, gentle, assuring and provided a treatment plan (I am signed up on a one year treatment plan).Chiropractic First prioritizes on your overall health that includes not only the care of your bones but also your muscles & diet. Some of the most noticeable improvements after my chiropractic care are enhanced flexibility, no more cold feet, no more migraines, better sleep quality and reduction in shoulder pain.80-90% of subluxation goes unnoticeable, without any active symptoms or conditions. Recommend getting our spine treatment before it gets worse. Better spine = better quality of life. Highly recommend Chiropractic First & thank you, Dr.Moh!
Chow Ju Li
06:56 22 Nov 21
I had been attended a few adjustments with chiropractor, Dr Moh. After his adjustment, I can really feel my neck and shoulder stiffness has been reduced. Besides, I also get better quality of sleep right after adjustment as before I was having leg cramps almost every night if I didn't wear socks during my sleeping hours and now I do not need to wear any socks to sleep anymore. Definitely, would still attend the adjustment constantly to achieve a better spine. Thank you Dr Moh.
双C Cindy Chow
05:45 18 May 21
I've started my consultation and adjustment at DesaPark City @ DR.Moh. He is quite responsible and careful to patient. My neck pain getting better after adjustment.
Xuener Lee
12:11 30 Apr 21
我是在Desa Park City Waterfront 的分行由Dr Mok 负责。我做了超过十次的疗程后,改善了我的左手臂酸痛的问题,也改善了我的肩膀和脖子疼痛的问题,晚眠质量变好了。我是和我的女儿一起开始疗程,我的女儿也改善了她的長时间站立的脚痛问题,最明显的改善是她的肩膀高低不平均的问题。Dr Mok 的态度友善,很有耐心的指导我们正確的坐姿,不断重复提醒我们骨格移位是什么样的观念。
vivien chee
08:59 30 Apr 21
Dr Ng [Desa Park City] : She is a very good doctor. Full of love, passion, energy, strength and a healing heart. The best and No 1 chiropractic doctor in Malaysia
CHEW SIA Ngoi
08:22 30 Apr 21
I first started going to see Dr Moh Kar Wai in Desa Parkcity bout 1.5 months ago & I noticed a difference to my shoulder, neck & head.. is less tension & stiff now. Previously it was just so tight that yearn for massage all the time! After about 12 sessions now I can definitely feel I'm lighter & my flexibility has improved!Dr Moh is very passionate bout what he does & very patient too & will take time to explained bout my overall health that I'm going through & prevention of further injuries! Please do visit if you haven't been before!~ Pat Koh
p-T1058 Hai Pong [Adrian]
04:39 30 Apr 21
Currently receiving my spine adjustment at Desa Park City branch. The detail assessment & examination are pretty impressive. Besides of providing professional adjustment, Dr Moh emphasised a lot on our awareness of own spine's problem. His step-by-step education makes me feel relaxed during the session. I'm confident about the end result. Looking forward for the next session!
Zi Quan Kam
16:36 29 Apr 21
I've just started going to Chiropractic First at Desa Park City and it has been such a pleasant experience. Dr Ng and the staff at Chiropractic First is super friendly and accommodating. Would highly recommend if you are looking for chiropractic services. Dr Ng took her time to explain every single detail of my condition as well as the treatment plan. The whole process is both comprehensive and effective in ensuring the best results are met.
Unlike other patients who reported miracles, my progress is slow. However, if my 2 years+ knee sharp pain problem can be gone in a few months without surgery I'll be glad giving it a try! The level 10 sharp pain that I used to have is now maybe 5. Looking forward to full recovery.My ankle movement has improved where I can bend fully at more angles. This injury is a really stubborn one which sticks with me for 4months already only to gradually improved with Dr. Moh @ Desa Parkcity. I can feel that my ankle is more stable now.More importantly, I think I'm happy to see that my posture has improved!
Janice Ong-ZY
11:34 29 Apr 21
It's my first experience trying chiropractic treatment. I signed up with their Desa ParkCity branch and have been under the care of Dr Moh. He's a very passionate and patient doctor who thoroughly explains chiropractor care to his patients. After one month of treatment, I've felt much relief from my neck pain and almost no headaches which I used to get daily. I've gotten good quality of sleep and instant relief after my sessions with Dr Moh. I highly recommend Dr Moh for his professionalism and passion in helping his patients.
Sheila Yvonne
11:14 29 Apr 21
Had a great experience here at desa park with Dr Moh
I am not only happy with meeting Dr Ng i am blessed to have met chiropractic first team, at first they are very helpful, kind and understanding even i am always late 😄 but let's talk about adjustments i have here. Its very fast no hurt can feel but only energised, less back pain, many improvements i started feeling even from the second session. Guys it's not an ads it's honest review from a nervous, always headache, demotivated person, who always had pain in joints of pelvic and numbness in arms, but all these symptoms are gone from the second visit Dr Ng🙏 My lovely doc i am happy to have met u, and thank you to chiropractic first.
Aylar Amangeldi
02:40 29 Apr 21
Dr.Ng Chia Ern from Desa Park City branch is so helpful and explained every single details clearly. I can see changes on my body ever since I started the adjustment
Her WishList
02:22 29 Apr 21
I've been having constant lower back issues for a couple of years now. I've had adjustments done by Dr Ng for the past month and my situation has improved significantly under her care. Dr Ng is very knowledgeable and professional. She has been offering great advices on spine care and home exercises to reduce further injuries. After a month's sessions, my lower back problem is no longer hindering my daily activities and definitely having better sleep. The staffs are very friendly and helpful, they made sure the place is well-cleaned and sanitized after every patient.Will definitely recommend!
Very professional and friendly. Dr.Ng will go through a step by step on chiropractic care and give you some Pop quiz.....😉 Be prepared.
Mike Peters
01:36 29 Apr 21
This is the first time I have been to a Chiropractor. All my apprehension seems to disappear during my very first session as Dr Ng of Desa Park City is so approachable as well as professional and knowledgeable. She gives me the confidence to continue adjustments under her care. The staff at the reception are all friendly and helpful.
Theresa Ng
12:21 28 Apr 21
I was having long short leg and having difficulties while walking down staircase. And I felt numbness of my wrist and suffered from back pain due to long hours of sitting from work.After several treatments and adjustments, my pain and discomfort from my back has subsides gradually. And I can see progressive changes and improvement in my walking pattern as well as better movement while walking downstairs.Highly recommended Dr Moh. (Desa park city Waterfront)
Done my 1st adjustment after a detailed assessment of my Xray by Dr Moh at desa park city branch and it relieves my lower back pain instantly. Will recommend Chiropractic First to anyone suffering from back pain.
NZ Iskandar
12:03 28 Apr 21
Managed to reduce my pain significantly after a few sessions. Thanks to Dr Ng@ Desa Park City Branch
Jaycee Too
11:54 28 Apr 21
Excellent service by Dr Ng & her team from Chiropractic First Desa Park City branch 🤩🤩🤩 She has demonstrated continuous professionalism by carefully explaining and making me understand the root cause of my issue & provided corrective lifestyle solutions. Upon first few visits, my body ache has showed positive recovery & slower relapse.. Strongly recommend a visit for spine's health check as degeneration may go undetected before it started to show symptoms.
winnie tee
11:29 28 Apr 21
Despark chiropractic first Dr ng,经过一个月的治疗,感觉腰部和颈部的酸痛有改善,推荐大家来。
Great improvement after first few adjustments. Miraculously slept better, felt more alert and energetic. Wished that I discover chiro treatment earlier. Dr. Moh is very professional as well. Not just provide adjustments but also helping the patients to understand the root cause better.
I have attended few adjustment with chiropractor, Dr Moh. After his adjustment I feel my neck and shoulder stiffness has reduced. Besides, I also get better quality of sleep night after. Definitely, do think if I constantly attend the adjustment, my spine problem will get better.
Chiew Jin Hong
12:00 27 Apr 21
Previously, i could not stand and sit for long hours, i will feel pain after I sat for 1-2 hours. However, after adjustment by Dr Moh, I definitely feel better, i can sit and stand for long hours in a very good posture. Dr Moh also educated me about what is Chiropractic and explain it to me how he is going to treat. Thank you Dr Moh.Highly Recommended.
Dr. Ng is super professional and patient. The staff is very friendly. Dr. Ng would explain all the info and let us know about our condition. The price is reasonable 👍🏻👍🏻👍🏻If you're looking for chiropractic, I highly recommend here.
Dr Ng is very professional after 2nd treatment from her my neck does not feel so stiff and pain after a long time doing work on my computer. 👍🏻👍🏻
What I can say is from the first adjustment I have visually feel the changes in my mood, my nervousness is gone literally gone coz even I haven't realised but i had stiff neck and that's what made my mood bad, but after chiropractic visits i started feel very energetic, optimistic, no stiffed neck, headaches are gone, I had digestive problems but they are literally improved even I am still eating same things i used to even before chiropractor visits. So i am happy I have met chiropractors at Desa, Dr Moh Kai Wai is really kind, helpful and explaining all info that way that easy to understand. Thanx a lot to chiropractors thank you that you are here to improve our lives👏
Рахим Амангелди
05:14 21 Apr 21
My 1st treatment was w Dr Ng, later I was asked to go to Dr Moh. Both have magic hands. Via x ray, I can see my misalign at my spine, namely at neck, back, buttock, hip & shoulder. After many treatments, there were progress. I slept better, breath better, having better posture, no headache during treatment. I used to have monthly traditional massage as a body maintenance but this chiropractic treatment identified the root cause of my problem & corrected it. Don t expect miracle on a first visit, coz it is just like doing braces for crooked teeth. Every adjustment is vital to get the final result.
this is a very professional chiropractic in town. Pls try and you will be rewarded with good result.
Starting my adjustments in Chiropractic first was the best desicion I have ever made. I had shoulder, middle back and lower back pain which I struggled a lot. In the first few days I felt relieve. After 2 weeks my pain became less and I felt less tired. Dr Moh Kah Wai is very friendly and help us a lot. Staff is also helpful. We come here as a whole family and clinic also has special promotion for close relatives and I recommend everyone to come to Chiropractic first.
Nurnazar Amangeldi
12:26 06 Apr 21
Hayden is 12 years old and has hypermobility we have tried lots of therapies to help him and he says this has helped the most. Friendly, professional serviceHayden has seen Dr Ng Chia Ern and Dr Moh Kah WaiHayden Webster
Dr Ng is very good at her jobMy neck used to hurt buy now it's very good I don't have pain anymore
Medine Amangeldiyeva
02:45 01 Apr 21
The staff is very nice and friendly. Professional and very organize in handling customer request. Been receiving treatment from Dr. Ng Chia Ern. Progressively improvement on my neck pain and discomfort.
Nor 'Atiqah Othman
06:17 31 Mar 21
Highly recommended to consult Dr Ng
Friendly doctor - Doctor Kah Wai who is patient, and willing to spend more time to explain about chiropractic. My mom's frozen shoulder has improved after the first visit
Mun Ee Lee
03:00 28 Mar 21
Dr Ng is kind, calm and patience. I've went for my first adjustment with difficulty to open my mouth/jaw wide, it affects my eating and giving me headache almost everyday. I can see gradual improvement after each session and recovered around 80% now.
Starting my adjustments in Chiropractic first was the best desicion I have ever made. I had shoulder, middle back and lower back pain which I struggled a lot. In the first few days I felt relieve and happyness:) I am very excited every time I come to Chiropractic first. After 2 weeks my pain became less and I felt less tired.Dr Ng is very friendly and help us a lot. Stuff is also helpful.We come here as a whole family and clinic also has special promotion for close relatives. and I DO recommend everyone to come to Chiropractic first and enjoy life:)
bagt mered
02:29 27 Mar 21
Been suffering from wrist pain and headache on and off for years. Medicine and cream didn't work long term for me before I came across Dr Moh . He fixed all the problems professionally with care and patience!Now he is taking care all of my old Injuries and new injuries ! I would highly recomend this place waterfront desa park city to find him!
Hiew Kah Wai
15:34 12 Mar 21
I love how Dr.Moh takes his time to explain my conditions and treatment methods, has constant follow up and reminders. I feel at ease everytime after the treatment session and there is obvious improvement.
nicole hoong yee pei
06:51 06 Mar 21
Dr. Moh treats my condition professionally throughout every session while educating me on knowledge about chiropractic as well.His goal is not only focusing on the existing problem but also to address the root of problem & let your body heal.Highly recommended.
I am grateful to Dr Moh for enlightening me and husband on the importance of spinal care! We highly recommend him to anyone of any age for chiropractic care! He's not only patient but highly experienced!!! Who would hv thought that a few adjustments here and here could clear my sinuses and headaches!
May Yee Cheong
02:52 24 Feb 21
Very effective 👌Super helpful and friendly staff
Mohamed Saleh Tulib
02:30 24 Feb 21
Would like to give a big thanks to Dr. Ng Chia Ern. There is a lot of improvement from the first day of the treatment. Dr. Ng is very professional as she will check every part before she start the adjustment. Overall very satisfied. 👍🏼
Been here for about 2 weeks. Was having some lower back pain. Slight improvement after 2 weeks.
Kin Lam See Tho
11:35 22 Feb 21
The overall service experience is great. Been receiving treatment from Dr. Chia Ern that I could see progressive changes and improvement on my lower back pain that had been carried for years and getting myself back with the right posture. A big shout-out to Dr. Ng Chia Ern for her best treatment !
Dr Moh Kah Wai is very good doctor. I was having strong headache and shoulderache from office work. After a few sessions I felt the changes. My work efficiency increased dramatically and I feel a lot better than before.
haknazar aman
11:16 16 Feb 21
I have just learned about chiropractic recently and I been having stiff neck that lead to headache for a very long time. After being treated by Dr. Moh I see very big improvement for my condition. Dr. Moh is very patient and explain very well about the treatment and the problems I am having. I have learned more knowledge on taking care of my spine from bad posture.Would highly recommend anyone who suffering from long term spine issues that lead to back and neck alignment.
This place is amazing , the doctors are really professional. They are super specific about your problems and instead of just curing it , they educate you on how to prevent it too. Super friendly and effective , I'm only on my fourth session but I can feel the differences already . 5 star for sure. Look for Dr Moh Kah Wai if you are here !
I would definitely recommend the therapy who has been suffering from long term spine issues leading to back and neck alignments . I had been suffering from lower back problem for past few years , I see a drastic relief in my back problem . Dr .Moh is one of the best at treating . He is very patient and very friendly with the patients .
Suresh Kumar
08:05 14 Feb 21
First and foremost, I have learned about chiropractic and I had lower back pain and neck pain for the past few years. After getting adjusted by Dr Moh, I don't feel any discomfort or pain and it's definitely improves my overall health.Dr.Moh is a great and friendly chiropractor.He can diagnose the cause of the pain, takes the time to educate and listen to his patients' concerns. He will ensure that all of your questions are answered when you come in for your appointment.Highly recommended!
Siew Ling Ngui
02:08 14 Feb 21
Friendly experience staff and doctor here. Been receiving treatment from Dr. Chia Ern. Progressively improvement on my neck pain and discomfort.
Highly recommended. I receive treatment from Dr Chia Ern. I didnt know i have scoliosis until i went for x-ray scan. The staff & service is very friendly & good. (Ee Zen)
The service provided is excellent. The staff are very professional and friendly. Been going for my treatment with Dr. Moh and I can see progressive changes and improvement.
Ganeshwara Rao Devadoo
10:33 09 Feb 21
Dr. Moh is a very professional chiropractor. He has provided good consultation and plan for adjustment and recovery.After visiting the DPC Waterfront branch one week ago due to a prolonged upper back and shoulder aches, I noticed that my backache problem is improving.I will be visiting Chiropractic First consistently because I know that Dr. Moh will treat my completely.
Chuah Minjet
09:29 05 Feb 21
Very good service with friendly staffs, professional doctors and comfortable environment. Special thanks to Dr Moh for his best treatment 👍
Pavithra Muniandy
09:56 04 Feb 21
Schedule Your Appointment Today
Discover how chiropractic can help you.
Take the first step towards better quality of life.